Specialists in Charity Direct Mail
Charity Direct Mail & Non Profit Organisations
We send millions of personalised mail pieces per annum for both transactional and advertising mail.
Charities and Non Profit Direct Mail Services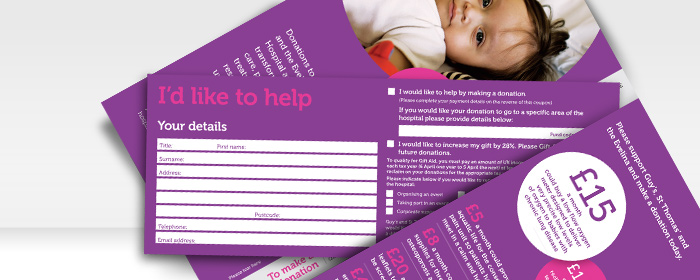 The Direct Mail Company is the perfect choice when sending charity and non-profit direct mail.
Our very own mailing house expert designer can produce high-impact direct mail that guarantees to produce a return on investment.
Direct mail is an effective and flexible marketing tool for charities as it can be used to generate high volumes of donations, increase awareness, develop the brand and deliver high-impact campaigns to targeted demographics.
Personalised charity direct mail
As with any direct mail, Charity and non-profit mailings can be personalised and printed using our advanced variable data printing solutions.
Personalising your direct mail gives the recipient a more valued feeling compared to a basic, scattered, blanket door drop with no personalisation.
Contact us here to see how we can personalise your next charity direct mail campaign.
Expert Distribution – Trusted by Charities
An advantage of sending effective direct mail to a charity or non-profit organisation is the ability to segment demographics into tiny, precise groups.
The usual age, gender, and postcode are useful; however, in our database of over 41 million people, we can find those who regularly give to charities, who often donate money etc.
Fully tracked, giving your charity peace of mind.
We provide unique identifiers on our direct mail to ensure we can track the responses.
We can track the success of your mailings in many different ways, from call tracking and recording to unique landing pages, which we can design for you!
Typical tracking techniques like offer codes, coupons etc., can also be applied to your mailshots to get a real, quantifiable figure to gauge your return on investment.
Our in-house, expert designers can fully design your next direct mail campaign, or we can work alongside external designers to create the perfect campaign for your next charity mailing.
We can offer mass marketing leaflet distribution if you require unaddressed mailings.
Why choose us for your charity direct mail?
We guarantee that you will love our refreshing approach to direct mail.
We make the whole process quick, simple and easy.
We are also keen on tracking every single mail piece we send to prove to clients that we deliver your mail on time and, more importantly, deliver your business a return on investment and real results.
Our customer service is excellent, with a very talented team working at The Direct Mail Company.
Leaflet Distribution for Charities
Do you want to target an audience in several areas throughout the UK but need access to the data, and with you being a non-profitable organisation, you need to keep costs low?
Have you looked into using a door-to-door drop?
This is where The Direct Mail Company can help. You would send over the postcode areas you would like to target, and we can send you a house count and quote and then help you plan the perfect cost-effective advertising method. 
We have a minimum order of 5,000, and we can offer to print to complete the whole procedure for you.
We use an independent company to carry out back-check reports to be sure the leaflet distribution is completed to our 5* standards.
                   Read our FAQs here to find our latest tips to get the most out of your advertisement.